Durlston sea cave death: Rescuers cannot find body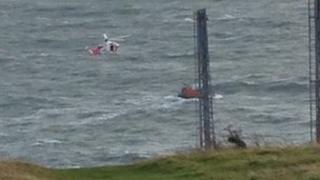 Rescue teams have been unable to find the body of a woman who died in a sea cave in Dorset.
Gale-force winds and rising tides prevented rescuers reaching the 30-year-old who had become trapped at Durlston, near Swanage, on Saturday.
Police, coastguards and the RNLI resumed the search on Monday but Dorset Police said the woman could not be located.
The force said officers were in close contact with her family.
Police have not confirmed whether the woman died but rescuers who managed to enter the cave on Saturday said they called off the operation when it became clear she had perished.
A police spokesman said: "Dorset Police, together with Swanage Coastguard Rescue Team and Swanage RNLI inshore lifeboat accessed the location yesterday and conducted a thorough search but the missing swimmer has not been located and inquiries are ongoing."