Tilly Whim Caves body recovery hampered by safety fears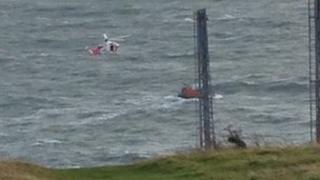 Rescuers are considering when it will be safe enough to recover the body of a woman who died in a sea cave in Dorset.
Coastguards battled gale-force winds and rising tides in a bid to rescue the 30-year-old, who had become trapped at Durlston, near Swanage, on Saturday.
The operation was called off when it became clear the woman had died.
A Dorset Police spokesman said: "Inquiries are ongoing to determine when further attempts can be made to access the area."
The force said it was working closely with HM Coastguard.