Poole oyster stocks movement ban over herpes virus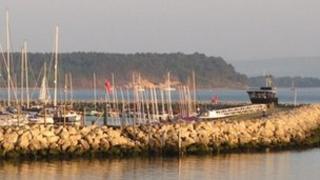 The movement of oysters from Poole Harbour has been banned after a form of herpes was discovered.
The outbreak of the virus was found by inspectors at a farm of Pacific oysters in the harbour.
It only occurs when water temperatures exceed 16C, has no cure and causes the shellfish to die.
The Centre for Environment, Fisheries and Aquaculture Science (Cefas) said there "were no implications for human health".
The Fish Health Inspectorate and Cefas epidemiologists are currently investigating the outbreak.
A Cefas spokesman said: "It is important that the disease is contained to prevent its spread to other oyster-growing areas in Great Britain."
Previous outbreaks in 2010 in Whitstable, Kent, and in 2012 in the River Blackwater, Essex, were contained through movement bans.