Cattle to help restore Bournemouth Airport heathland habitat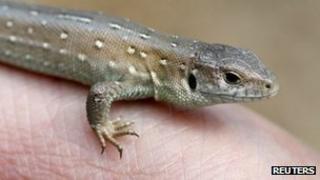 Heathland alongside Bournemouth Airport is to be restored for the benefit of some threatened species.
The airport and Dorset County Council are to work with Natural England to restore Merritown Heath and Moors Riverside Meadows, near Hurn.
The land, a Site of Special Scientific Interest (SSSI), is home to nightjars, Dartford warblers and sand lizards.
Part of the work will involve the introduction of grazing cattle to maintain the heath habitat.
The announcement follows a successful funding bid to Natural England, which has brought the site under a 10-year Higher Level Stewardship (HLS) agreement.
'Educational visits'
The Defra-funded stewardship scheme aims to help farmers and land managers deliver long-term environmental benefits.
The cattle are expected to be introduced to the site, which lies within the boundary of the commercial passenger airport, within the next two years.
Dorset County Council will manage the land and erect fences to contain the herd.
Its senior ecologist, Danny Alder, said: "The HLS will enable threatened species such as the nightjar, Dartford warbler and sand lizard to continue to thrive and help develop educational visits for local schools to explore the ecology of the habitats found here."
The land is also known as the Hurn Common SSSI and is protected under European legislation as part of the Dorset Heaths Special Area of Conservation and Dorset Heathland's Special Protection Area.
Moors Riverside Meadows is also protected as part of the Moors River System SSSI.