Weymouth Football Club's Bob Lucas Stadium plans rejected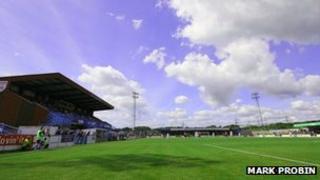 Plans to relocate Weymouth Football Club are in doubt after a council rejected proposals to develop up to 170 homes on the existing stadium site.
The plans would have seen the club move to land near Lodmoor tip - an idea first mooted in 2008.
West Dorset District Council rejected the application to redevelop the existing Bob Lucas Stadium on Thursday.
Wessex Delivery LLP, formed to create a new stadium for the club, said it remained "committed" to the project.
Weymouth Football Club and the council were unavailable for comment.
'Through to fruition'
Wessex Delivery LLP holds a 15-year option from 2008 to acquire the site in exchange for funding a new community stadium, within five miles of the club's existing ground.
A statement on the company's website said it had not received an official notification letter from the local authority about the refusal, but added it was "part of the process" and "exactly as we anticipated".
"We continue to remain committed to seeing the project through to fruition, potentially bringing 360 jobs and £30 million investment to the town and bringing many other key benefits," the statement said.
"Wessex Delivery has a contract to provide an alternative stadium for the town through its agreement with Weymouth Football Club.
"Therefore, the team will continue to work through the official process in order to achieve a positive outcome."