Dorset Police to sell Ferndown division HQ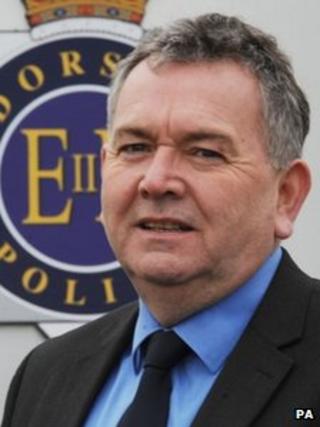 Dorset Police has announced plans to sell its divisional headquarters in Ferndown in a bid to save £500,000 a year in running costs.
The force said 202 staff would be relocated to other areas of the county if the sale went ahead.
Chief Constable Debbie Simpson said a review had recommended the force reduce the size of its estate.
She said the force spent £6.44m a year on its facilities. It needs to meet savings targets of £8.7m by April 2016.
She said: "While there will always be a requirement for specialist facilities such as custody suites, the review has established that we need to minimise our estate.
"The force is currently reviewing its use of Ferndown station and its administrative facilities to identify whether they can be accommodated elsewhere."
Dorset Police's estate is valued at £49.5m and covers 80 sites.
In June, Chief Constable Simpson said Dorset Police's work force had reduced by almost 500 since 2010.
A spokesman said further reductions were "inevitable" and it was anticipated that a further 209 jobs - both officers and staff - would need to be lost.
Police and Crime Commissioner Martyn Underhill said: "We need to make sure that the Dorset Police estate is fit for the future.
"If we lose a fifth of our budget and staff, we also need to lose some of our building estate.
"These proposed changes are about matching our resources to the demands of the communities that we serve, in order to keep people safe.
"I would like to reassure people in Dorset that we are committed to local neighbourhood policing and that police officers will still operate in the heart of Ferndown."