Olympic gold medallist Peter Wilson donates London 2012 kit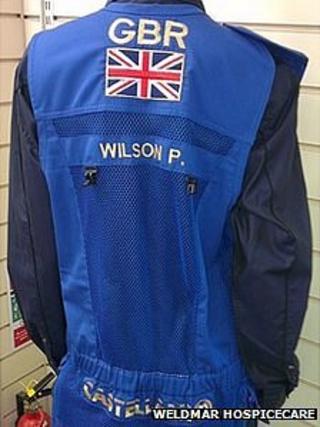 An Olympic gold medallist's kit is being auctioned after he donated it to a charity shop, along with a bag "full of old socks".
Shotgun champion Peter Wilson dropped off his London 2012 tabard, trousers and winner's shirt with other items at Sherborne's Weldmar Hospicecare Trust.
Deputy manager Cilla Christopher said she was "shocked" to find the kit and had checked he wanted to donate it.
She added she "politely told him" the shop could "only recycle" the socks.
The 27-year-old, from Glanvilles Wootton, won the men's double trap final at the 2012 Games.
He also donated tracksuits, shorts and a shooting cap to the shop.
'Nice young man'
His Team GB kit is being auctioned online, while the other items are being sold in the shop where Ms Christopher said staff would "take the best offer" on them.
She said the gold medallist had "brought three bags of clothes into the shop".
"One was full of old socks which I politely told him we would only be able to recycle," she said.
"He also brought in his dad's jacket by mistake, but in the third bag, there was all of his Team GB kit.
"I was shocked and delighted - what a really nice young man and such a lovely thing to do."