'Failing' NHS Trust opens new mental health wards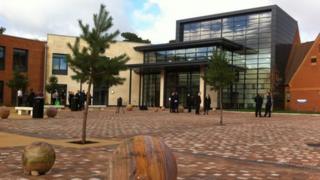 A mental health hospital in Poole has officially opened two new wards as part of a £35m redevelopment.
St Ann's Hospital in Canford Cliffs now has a "more therapeutic environment", Dorset HealthCare NHS Trust said.
It comes after the trust received a damning report from the health regulator Monitor for failing mental health patients across the county.
The mayor of Poole formally opened the wards which form the redevelopment's £14m first phase.
Facilities now include single-sex accommodation with single en-suite rooms instead of dormitories.
Landscaping works
Dorset Mental Health Forum chief executive Becky Aldridge said it was "great to see real investment in mental health services".
James Barton, director of mental health services at Dorset HealthCare said: "Although we provide the majority of our care in the community, we wanted to deliver the highest quality mental health care for those that do need our inpatient services from time to time."
Dorset HealthCare came under fire from Monitor in September. Inspectors shut a mental health ward at Forston Clinic in Charlton Down in December because patients were not receiving appropriate and safe care.
It reopened in April.
Phase two of the project will include the refurbishment of a 1980s hospital building and further landscaping works around the site.