Parents hit out at Blandford nursery closures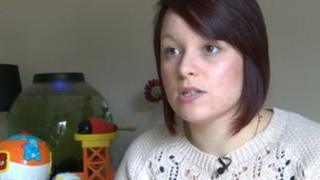 Parents have criticised plans to close two nurseries and an out-of-school club used by 250 children in north Dorset.
Dorset County Council said it could no longer afford to run Blandford Nursery, Shaftesbury Nursery and Oscar's Out of School Club in Blandford.
It said it was unusual for a local authority to run such schemes and projected losses would reach £134,000.
Mother-of-two Emily Gale said the announcement had caused "panic and a lot of upset".
She said being able to put her three-year-old daughter in Shaftesbury Nursery was "hugely important" as it allowed her to have a part-time job.
"The children are integrated and happy there," she said.
"It came as a huge shock and caused panic with all these children now looking for nursery places in a very small town."
The Conservative-run authority said running costs and the loss of government grants meant it was no longer financially viable to run the centres.
Dorset County Council's cabinet member for children's safeguarding and families, Rebecca Knox, said: "We have made every effort to keep the two nurseries and out-of-school club open but, sadly, matters have not improved.
"The decision to close was taken reluctantly and officers are working hard to find alternatives for parents and children."
She said a drop-in session would be held to allow parents to discuss individual needs.
The nurseries are due to close on 31 March 2014.