Hardy's Far from the Madding Crowd film set created in Sherborne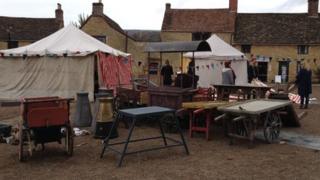 Part of a Dorset town is being transformed into a movie set ahead of filming for an adaptation of a Thomas Hardy novel.
Some scenes for Far from the Madding Crowd, starring Carey Mulligan and Tom Sturridge, are being shot in Sherborne.
A Victorian "market" is being created outside the abbey with shops on Half Moon Street having their frontages transformed to fit the era.
Three days of filming starts on Sunday, when Half Moon Street will be closed.
Arts director Tim Blake said the most challenging part of creating the set in the town had been its "sheer scale".
"Hiding everything that is modern is one of the major jobs but it is helped by the fact there are a lot of untouched period buildings, such as the abbey," he said.
Sheep-shearing men
Work in the town for the Thomas Vinterberg-directed film has included re-dressing shop windows and covering the grass outside the abbey with gravel.
Set decorator Niamh Coulter said: "There's going to be a big market here during filming, with fish and vegetable sellers and lots of animals, including sheep and pigs.
"Getting the big lorries with all the gear down the narrow winding streets of Dorset has been a little tricky at times."
Kim MacInnes, manager of the Sue Ryder charity shop, which has had its window re-dressed, said: "This is a wonderful thing for Sherborne and will promote the town beautifully."
Elly Waller, who lives and works in the town, agreed: "I'm super-excited to see the town transformed for the filming of such a classic book.
"Fingers crossed for some famous customers."
In August, hundreds of people auditioned in Bridport for the open casting of the film, where extras including bearded men who could shear sheep and women with natural hair were sought to play farm workers from the 1840s.
Filming has already taken place in Mapperton in the county, with a cinema release planned for spring 2014.
Hardy was born in Dorset and lived most of his life in the county, writing novels and poems.