Dorchester £5m traffic scheme unveiled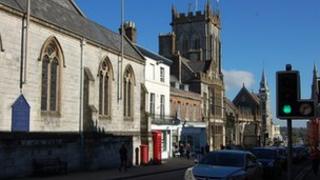 Plans for a £5m traffic scheme aimed at improving congestion and air quality in Dorchester have been unveiled.
The Dorset County Council proposals could see some roads become one-way, while others are made subject to new traffic signal systems.
The council's head of environment, Hilary Cox, said the changes would prove "awkward" for some people travelling to the town regularly.
The plans will go on display at Dorchester Library on Thursday.
The proposals could see High West Street and High East Street made one-way, a new traffic signal system at the junction of Princes Street and Albert Road introduced and restricted turns added at Great Western Junction.
The measures are designed to reduce the amount of traffic in the town and, as a result, improve air quality.
'Curtail motorists'
Ms Cox said the roads "were not designed for the volume of traffic that we have now clogging up the streets and making it quite unpleasant to get about on foot".
Commuter Narissa Higgins, who makes a daily journey to the town from Puddletown, said a one-way system would make roads more congested.
"There'll be less traffic flow as everyone will be going the same way - it sounds like it'll be a nightmare," she said.
However, cafe owner John Fiori welcomed the move.
"Not enough people use the by-pass and instead use this route to travel through the town centre - it's a bottle neck," he said.
"Hopefully a one-way system will help to curtail motorists using it as a cut through."