Corfe Castle stonework to be repaired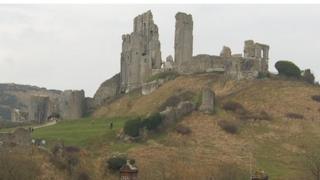 A two-month conservation project to repair the ruins of a medieval castle in Dorset has started.
Holes in the stonework of Corfe Castle will be filled by hand using a syringe containing lime mortar.
Teams will also remove loose mortar and vegetation from the first, third and fourth towers.
The castle will remain open throughout but there will be no public access to the affected towers. It is hoped the work will be completed by 23 December.
"Apart from modern health and safety and plastic buckets, the conservators work very much as medieval builders would have done when they built or repaired the castle," said visitor experience officer Pam White.
The last major works on the ruins won an award from the Royal Institution of Chartered Surveyors for the use of traditional materials and techniques.
The castle, which was used as a royal palace and fortress, was partially demolished during the English Civil War in 1646.