Landslip-closed Portland coast path reopens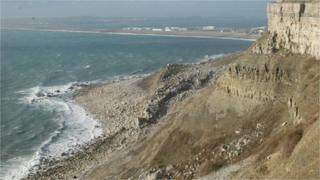 A section of Dorset coast path which closed in January amid landslip fears has partially reopened.
Dorset County Council said a 20m (65ft) stretch of South West Coast Path above West Weare, Portland, has reopened following repairs.
The authority said the repairs on the path, which follows an old quarrymen's tramway, included "fixing holes that had opened up in the path surface".
Two smaller sections of the path remain closed with diversions further inland.
'Deep holes'
The Tout to Blacknor footpath has natural gullies which the quarrymen used to fill with quarry waste so their horse-drawn trams could cross, the authority said.
A spokesperson added: "Movement in the cliffs can cause the material in the gullies to collapse leaving deep holes and cracks in the path surface."
One section of path which remains closed includes a footbridge on the cliff top at Blacknor.
The council said surveys at the site have revealed there is "a risk that the entire cliff could fail with little or no warning".