Firms bid for Portland Port dry dock concession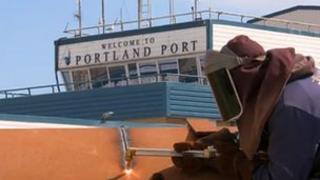 Ten companies have put themselves forward to build and operate a floating dry dock in Dorset.
Portland Harbour Authority wants to create a ship repair yard at Portland Port and is searching for a development partner for the scheme.
The authority said it had so far received 10 expressions of interest and would make its decision in December.
It said the £50m project, announced in July, was part of a long-term plan to develop the harbour.
Portland Harbour Authority's commercial port was established in 1998, following the departure of the Royal Navy in 1996.
The authority said it had already spent £1m to obtain the necessary permissions for a ship repair concession for at least 30 years.
It is hoped the ship yard will create more than 300 jobs and be in operation by 2015.
The port handles more than 650 large vessels each year and employs more than 600 people.