Purbeck Isle inquest: Poor boat condition 'contributed to deaths'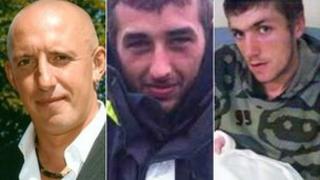 The poor condition of a fishing boat probably contributed to the deaths of three fishermen who drowned off the Dorset coast last year, a coroner said.
David McFarlane, 35, Jack Craig, 21, and Robert Prowse, 20, were aboard the Purbeck Isle when it sank south of Portland Bill in May 2012.
The three fishermen had set off from Weymouth on the wooden potting vessel when it foundered.
An inquest in Dorchester found their deaths were accidental.
The coroner listed three causes as likely to have contributed; flooding through hatches; poor condition of the hull and a lack of stability due to overloading.
The court heard that despite passing insurance surveys, the vessel was actually in "very poor condition".
Part of the wooden hull were rotten, fastenings had corroded and the bilge pumps designed to get rid of water from the boat were not all operating properly.
Life raft failed
The inquest heard how on several occasions the boat had got into difficulties and on one occasion it had to be towed back to harbour.
The body of Mr McFarlane was found entangled in ropes the day after the sinking.
The wreck of the vessel was found later that day, 10 miles (16km) south of Portland Bill at a depth of 164ft (50m).
The body of Mr Craig was recovered from the seabed but Mr Prowse's body has never been found.
A Marine Accident Investigation Branch (MAIB) report said an incorrectly-stowed life raft failed when the vessel sank.
The report also said the boat lacked distress signal devices, so the coastguard was not alerted for hours.
The boat sank so quickly the crew were unable to broadcast a mayday call, collect their lifejackets or manually launch the vessel's four-man life raft before they went overboard, the report said.
A release unit used to secure the life raft in its cradle activated as the vessel sank.
But the raft failed to float free and inflate because it had not been properly stowed and sank to the seabed.