Poole Museum acquires Bernard Gribble painting of town's quay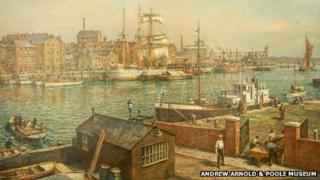 A 1930s painting of Poole Quay by Bernard Gribble has been acquired by the town's museum.
Poole Quay from the Shipwrights' Arms has been on display at the museum's Painting Drama at Sea exhibition after being loaned from a private collection.
The £6,000 purchase was funded entirely through grants and public donations.
The museum, which has the largest collection of Gribble's work, said the painting filled a "significant gap" in its collection.
The painting is considered to be one of Gribble's finest depictions of Poole, where he lived for much of his life.
'Generous support'
It shows the view of the busy quayside from an upper floor window of the Shipwrights' Arms, which used to stand on Hamworthy Quay, next to the ferry.
Judy Butt, culture councillor for Borough of Poole Council, which owns the museum, said: "I am delighted that Poole Museum has been able to buy this painting, with all the money coming from community donations and from national grants.
"We're very grateful to the V&A Purchase Grant Fund and the Art Fund for their generous support of this acquisition.
"In particular a big thank you goes to all of our museum visitors who make donations to purchase items like this fantastic Bernard Gribble, which many more visitors will now be able to enjoy for years to come."