Dorset Police proposes cutting station opening hours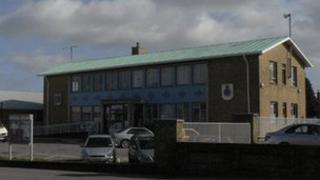 Cutting the opening hours of police stations across Dorset could save around £500,000, the force has claimed.
A savings review also proposes withdrawing some officers from manning front counters at stations.
Chief Constable Debbie Simpson stressed "no final decisions" had been made about front desk staffing.
Dorset's Police Federation chairman Clive Chamberlain fears people in rural areas will suffer if their services are cut.
The force said its review identified station front desks as "an under-utilised resource" and claimed some in the county received just a few visits a day.
Chief Con Simpson said: "We have to meet a very challenging budgetary situation and we are committed to providing the best possible service while reflecting true demand and value for money.
"The potential closure of police station desks does not mean the closure of the stations themselves."
Rural areas 'to suffer'
The force is trying to achieve budget savings of £10m by March 2015.
The public is being asked to give its views on the proposals in a consultation.
Police Federation chairman Mr Chamberlain urged people to make their views known on the issue.
"I don't think people would wish to see the withdrawal of police station counters or indeed the closure of stations," he said.
Earlier this month, Dorset Police announced a four-month trial of out-sourcing the guarding of major crime scenes to private company Securitas.
It said the move would allow officers to concentrate on front line services.
Police and Crime Commissioner Martyn Underhill recently revealed the potential for securing sponsorship for the police and highlighted Dorset as the fourth lowest spending force in England and Wales.
A Dorset Police survey last year showed 77% of people preferred to contact the force by phone, with 75% of those calls made to the non-emergency 101 number.
Mr Chamberlain added: "So many counter services have already been withdrawn that people are forced to use other means of contact.
"If stations do close and are made unavailable, smaller communities in rural areas are likely to suffer, meaning people will have to travel further if they wish to speak to an officer."