Cyril Osment's lost artificial nose replaced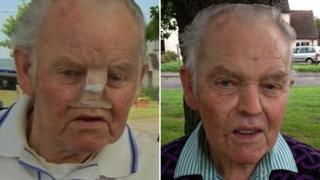 A man who lost his artificial nose while visiting the dentist has had an "even better" replacement fitted.
Cyril Osment, of Alweston, near Sherborne, Dorset, noticed the prosthesis was missing when he returned home from the visit last month.
The 83-year-old had his nose removed last year because of cancer.
Mr Osment, a former newsagent, said: "It's even better than the last one. It's a great fit and matches my skin colour better."
His silicone nose was replaced at Salisbury District Hospital and is held in place by magnets.
Joke nose
"I watched them make it - it was quite interesting," he said.
"At one point there were about 50 pots of paint on the table while they mixed and tried to get the colour right - a bit of this and a bit of that."
He said dirt had built up on the magnets of the original prosthetic which had stopped them from working properly, causing the nose to fall off.
Mr Osment said he had now been given a new spray to help keep his nose clean.
He said the lost prosthesis could have been mistaken for a joke nose and his appeal to help find it was reported around the world, but it has never been found.