Rescued chimpanzee on birth control has twins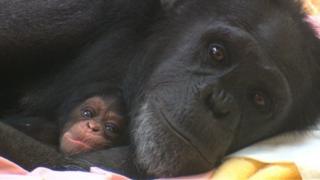 A chimpanzee at an ape rescue centre has had twins - despite being on birth control pills.
The baby girls have been named Thelma and Louise after the film fugitives because staff at Monkey World in Dorset said they were "birth control outlaws".
Female chimps at the centre are given contraception to avoid overpopulation, but a course of antibiotics caused mother Cherri's pill to fail.
Centre director Alison Cronin said: "So far, Cherri is doing a great job."
'Twins are uncommon'
Cherri, who is in her early 20s, is classed as a mature mother and gave birth to the twins on 25 September.
The centre delayed the announcement of the births until it was certain the twins were in good health.
Dr Cronin said Cherri is being supported by the adopted family of 18 other chimpanzees and in particular a male chimpanzee named Simon "who has not left her side since she gave birth".
She added the twins' birth took staff at the centre by surprise "as they are not very common".