Weymouth adopts super-strong alcohol campaign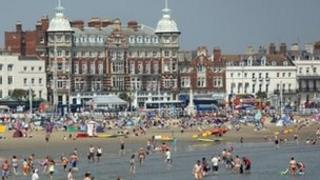 Off-licenses in Weymouth have begun signing up to a voluntary ban on selling super-strength beer and cider.
Seven shops in the Dorset seaside town have agreed to stop selling the drinks as part of a campaign by police, councils and health officials.
The scheme has been inspired by the Reducing the Strength campaign in Ipswich, where 65% of off-licenses stopped stocking the drinks.
Suffolk Police said the scheme had cut crime and anti-social behaviour.
Weymouth and Portland Borough Council said the initiative was aimed at limiting the ability of street drinkers to buy cheaply-sold beers and ciders with an alcohol volume of more than 6.5%.
It is initially being run across Weymouth town centre and Abbotsbury Road.
The first shops to sign up were Bon Bon, Mace, Derby Stores, Eats & Drinks, Lennox Street Store, Lodmoor Hill Post Office and Beals Newsagent.
The aim is to sign up all the town's licensed supermarkets, off-licences and shops to the scheme, the council said.
'Intimidating customers'
Weymouth and Portland borough councillor Geoff Petherick said: "Street drinking and the anti-social behaviour that surrounds it is an issue we want to tackle in Weymouth.
"Cheap super-strength alcoholic drinks have a huge negative impact on both the consumer and the wider community.
"We want to deal with the problem at the source by encouraging licensees to voluntarily remove all super-strength beer and cider from their premises."
Tim Beals, owner of Beals Newsagent in Dorchester Road, said: "When we sold super-strength ciders we would often have problems with some of the customers who purchased that sort of drink. They would often loiter outside and intimidate staff and other customers.
"Since we stopped selling it our client base has improved and my staff feel a lot safer."
The council said there were 385 incidents of alcohol-related anti-social behaviour between July 2012 and July 2013 in the town centre.