Bakers Arms roundabout roadworks in Dorset to cause delays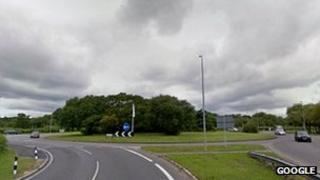 Motorists using the A35 near Poole are being warned to expect delays when a major roundabout is closed later for roadworks.
The road surface at Bakers Arms roundabout in Dorset is to be "completely rebuilt", the county council said.
The closure is to run from Friday at 19:00 BST until Monday 7 October 06:00.
The works are part of a larger project to widen and resurface roads as well as provide cycle paths in the area.
'Extremely busy'
Hilary Cox, Dorset County Council's Cabinet member for environment, said: "This is an extremely busy roundabout.
"By doing this now we will protect the carriageway for at least the next 20 years."
The county council said there would be "delays for motorists over that weekend" and advised them to "plan their route and allow more time for their journeys".
There will be travel information on www.dorsetforyou.com/traveldorset and on Twitter @TravelDorset.