Langton Matravers barn fire 'involved asbestos'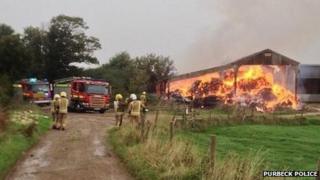 A fire which destroyed a barn filled with 150 tonnes of straw is thought to have involved asbestos, Dorset Fire and Rescue Service says.
A total of 35 firefighters worked to extinguish the blaze which started on Tuesday morning at Durnford Drove, Langton Matravers.
A spokeswoman said an area of hay was still smouldering and the fire service was re-inspecting the site.
She said the "plumes of smoke" had subsided. The cause is not yet known.
People living locally had been advised to stay indoors with windows and doors closed.