Glider tug plane crashes near Bovington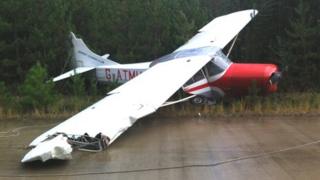 A plane used to tow glider aircraft has crashed in Dorset.
The tug aircraft clipped a tree, spinning it around, as it attempted to make an emergency landing in an army training area near Bovington.
It had been towing a glider but the gliding instructor was able to release its tow rope and land the engineless aircraft in a clearing.
The tug pilot, the gliding instructor and passenger were all uninjured in the incident on Sunday morning.
Glider pilot David Piercy, an instructor with Dorset Gliding Club, said both planes had just taken off from Eyres Field near Wareham when, about 50ft (15m) into the air, he noticed the aircraft in front was losing power.
After releasing the rope that was connecting the aircraft, Mr Piercy managed to land the glider safely in Bovington Camp military training area.
He said the tug aircraft spun around as it crashed, sustaining considerable damage, but the pilot was unharmed.
Mr Piercy said: "I'm pleased to say we are trained for emergencies and the training has worked. My passenger was very calm - he helped by not freaking out."
Air Accident Investigation Branch officers are at the scene.
Dorset Police said it had been made aware of the incident at about 11:00 BST and traffic officers were investigating.