Trance club Slinky bids farewell to Bournemouth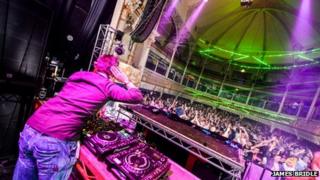 Global clubbing brand Slinky is to hold its final event this weekend, as it is no longer financially viable to run.
Director and DJ Lee Haslam said he had been personally financing the Bournemouth-based trance club since saving it from closure in 2010.
The most recent event, the 16th birthday party in May, left him with considerable losses despite strong ticket sales.
The final Slinky will be held at the O2 Academy Bournemouth on Saturday night.
It is the same venue that has hosted the club for 15 years of its 16-year history, although these days the ornate 19th Century theatre is owned by Academy Music Group.
In its heyday, Slinky ran club nights in Ibiza, hosted festival arenas, released numerous albums and rivalled superclubs such as Gatecrasher, Godskitchen, Cream, Pacha and Ministry of Sound.
Haslam, who joined Slinky in 2007, said: "We were a weekly club, then we went monthly, then quarterly.
"The numbers are OK but to survive we need to sell out every event. We have been getting 1,300 to 1,400 [people], which are good numbers, but our costs are high."
Painful decision
Despite the club's demise, the weekly Slinky Sessions radio show will continue each Saturday on the Digitally Imported website, while the record label, Discover, will carry on releasing music.
Haslam has been snapped up by former rival Gatecrasher, where he is booking artists for its Birmingham and Nottingham clubs and events worldwide.
"It's business at the end of the day," he said. "It's a very credible brand to work for and I've been lucky enough to work for a few in my career.
"When they found out that Slinky was closing they asked me to come on board."
Although his services remain in demand, Haslam said the decision to close Slinky was painful.
Owners Marcello Alessi and Richard Skaife had intended to close the club in 2010 but, desperate to keep it going, Haslam leased the brand from them and has been financing it ever since.
He said: "I'm very upset. I and a lot of other people have put time and effort into Slinky.
"It's hard when you are putting two to three hundred man hours into an event - and a few times I have paid for the privilege.
"I think there's a new breed of clubber who's not into trance. People are more into EDM and other stuff now."
'Expensive game'
As well as a change in the music scene, clubbers' expectations for big names and large-scale productions have not sat well with the recession. Nonetheless, tickets for the final Slinky, costing £17 each, sold out in just three days in May.
"If our other events had sold out as quickly as this one, we wouldn't be having this conversation," Haslam said.
"We have tried to keep prices down and have tried other things like the VIP tickets but it costs us £3,000 to take the venue on.
"Then there are the DJs and other people who need paying - it's a very expensive game."
Slinky started life in 1997 when the club also owned the venue, which at that time was called the Opera House.
In 2005 the club changed hands and the following year the Opera House closed for refurbishment, forcing Slinky to find a new venue at Elements in Bournemouth.
Haslam was brought in as head of music in 2007, just as the 1,800-capacity Opera House reopened. Slinky returned to the venue in January 2008.
Haslam said: "There are so many memories - we are very fortunate to have the Slinky faithful, and aesthetics of the building are awe-inspiring.
"Paul van Dyk in February sold out and we have had some great parties in that venue."