John Constable Medway Summer sketch sells for £5,000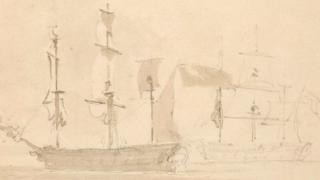 A John Constable watercolour of three ships which was found among a portfolio of low-value prints has sold at auction in Dorset for £5,377.
The painting, Medway Summer - 1803, was discovered in Dorchester during a valuation.
It was confirmed by experts as one of 140 sketches done by the artist during a trip on board a ship on the River Thames and River Medway.
The painting had been given a guide price of between £5,000 and £10,000.
Constable spent a month on the East Indiaman ship accompanying the captain, his friend Robert Torin.
In a letter to another friend, John Dunthorne, following the voyage, he wrote he had been "much employed in making drawings of ships in all situations".
The sketch was sold at Duke's Auctioneers in Dorchester.