Fears for missing Weymouth sailor Jeff Cole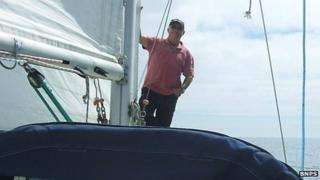 A missing sailor whose yacht was found off the northern coast of France may have fallen overboard, his sailing club has said.
Jeff Cole, 62, from Weymouth, Dorset, is believed to have set sail from the town early on Saturday bound for Swanage, but never arrived.
His yacht was found on Monday between Fécamp and Dieppe with no-one aboard.
A statement by Castle Cove Sailing Club expressed "great sadness" at his disappearance.
Experienced sailor
Dorset Police's Insp Roger Robinson said the case was being treated as a missing persons inquiry and "some kind of accident or medical episode" would seem to have happened.
He said the force was liaising with the authorities in France who had already carried out a search of the shoreline around where the yacht was washed up.
Mr Cole was described as an experienced sailor who was used to making solo voyages.
His yacht, Palamina, was last sighted at about 10:30 BST on Saturday off St Aldhelm's Head near Swanage.
Portland Coastguard has also asked for anyone on other vessels, who might have seen the yacht, to contact them.
In a statement to members, Castle Cove Sailing Club commodore Richard Bowers said the exact circumstances were "not yet clear".
"Jeff had been planning to meet other Castle Cove Members in Swanage last weekend and it would appear that he may have fallen overboard en route.
"I am sure you will join me in sending our deepest condolences to Jeff's wife, Val, and family at this difficult time," he said.