Bovington Tank Museum vehicle conservation centre opens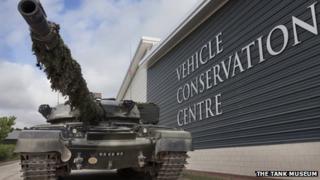 A new centre to carry out conservation work on vintage military vehicles has opened in Dorset.
The £2.5m facility at Bovington Tank Museum near Wareham will house up to 100 tanks and other armoured vehicles.
It includes an observation gallery to allow the public to view conservation work in progress.
Director Richard Smith said it was a "huge step forward" and created space for new exhibition displays elsewhere in the museum.
The Bovington attraction is the museum of the Royal Tank Regiment and Royal Armoured Corps.
It displays vehicles used by the British Army as well as foreign forces.
The new 40,000 sq ft (3,700 sq m) complex allows all of the museum's collection to be brought indoors for the first time.
Mr Smith said: "This new centre also gives us the facilities for an ongoing volunteer-led conservation and preservation programme, further guaranteeing the long term future of our collection."
Most of the funding for the project has come from the Heritage Lottery Fund.