World Garlic Eating Competition takes place in Dorset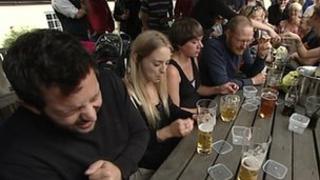 A man has eaten 49 garlic cloves in five minutes at a contest in Dorset.
Oliver Farmer, from Charmouth, won the 1st Annual World Garlic Eating Competition for eating the most pre-peeled Iberian cloves.
Organiser Mark Botwright, 49, of South West Garlic Farm near Bridport, said: "It was absolutely fantastic and an unbelievable result."
The event at the George Inn in Chideock saw 26 contestants eat as much raw garlic as possible in five minutes.
The cloves had to be eaten one at a time but could be washed down with liquid.
The champion won a trophy and prize money of £100.
Ali Harvey, from Seatown, came second with 46.
He said: "[I'm] in pain. It's really a lot spicier than you'd think.
"I thought I was going to be sick at the end. I'm full of garlic now but it was cracking fun."
All profits from the entrance fee will be donated to Weldmar Hospicecare Trust and Dorset and Somerset Air Ambulance.
Mr Botwright said next year's competition would see a change in the rules so that competitors could aim for a Guinness World Record.
The current record is held by Deepak Sharma Bajagain who ate 34 cloves in one minute in Kathmandu, Nepal, in 2009.