Wimborne Minster's Priest's House Museum tourism plan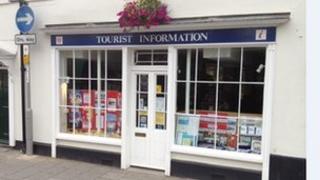 A museum is set to house a tourist information centre (TIC) threatened with closure in a Dorset town.
The Christchurch and East Dorset Partnership was due to shut Wimborne Minster's office in November.
Priest's House Museum's board of trustees has agreed in principal to work with the district council to continue its running using volunteers.
However, campaigners who have gathered more than 4,000 petition signatures say this could affect the service.
East Dorset District Council said the final details of the partnership with the museum, which is located next to the existing TIC, were yet to be formalised.
If agreed, the authority will fund a manager at the TIC for up to three years while a group of volunteers will be set up to run the service as part of the museum.
A similar arrangement has already been agreed in Christchurch where the Regent Centre will take over running of the TIC there.
Job losses
Chairman of the town's tourism committee Anthony Oliver started the petition with town crier Chris Brown in August, following the announcement of plans to close the centre in Wimborne Minster.
He said: "Although we welcome the move by the museum to save the TIC, we would rather it operated as a separate centre and not be incorporated as part of the museum.
"We are concerned the use of volunteers instead of paid staff, as is the case now, could affect the standard of service visitors receive."
He added he was also concerned about the job losses of the centre's five part-time staff.
The petition is expected to be presented to the council on 25 September.
Wimborne Minster's tourist attractions include its church which is dedicated to St Cuthburga, sister to King Ina of the West Saxons.
It is also believed that Alfred the Great buried his brother Ethelred there in 871.