Dorchester's equine sculpture revealed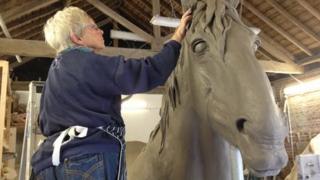 The latest stage in production of a dray horse sculpture for a Dorset town centre development has been completed.
The 5m (16ft) tall statue, which is the latest work by 80-year-old equine artist Shirley Pace will stand in Brewery Square in Dorchester.
It has been commissioned in memory of the dray horses who worked there when the site was home to the Eldridge Pope brewery.
The completed clay mould will now be cast at a bronze foundry in Liverpool.
Mrs Pace came out of retirement to sculpt the horse from a tonne of clay over a steel skeleton.
'Striding out'
It is modelled on a dray horse called Drummer who was the last to be based at the brewery in the 1970s.
She said: "He's just striding out with one foot raised and he's got that look in his eye.
"I've enjoyed every minute of it - it's brought it all back again."
It has taken Mrs Pace 54 days to complete the clay mould.
The unveiling date for the finished bronze which will stand in the yard of the former brewery is yet to be announced.
It is expected to arrive in Dorchester on a cart pulled by a pair of dray horses.
Drummer is the second dray horse sculpted by Mrs Pace for a former brewery development.
Her bronze artwork of a horse named Jacob was flown over London to The Circle, near Tower Bridge, slung under a helicopter in October 1987.