Constable painting found among prints in Dorset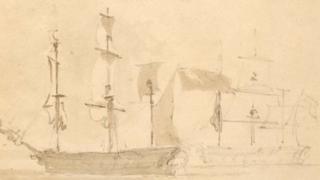 A John Constable painting has been discovered in Dorset among an old folio of low-value prints.
The watercolour has been confirmed as one of 140 such sketches drawn and painted by the artist in 1803.
It was spotted sandwiched between the prints by experts after the owner brought the folio in for valuation.
He inherited the collection in the 1980s but thought nothing of the watercolour, which is expected to sell for more than £5,000 at auction.
'Didn't believe'
Constable produced many studies while spending nearly a month on the ship East Indiaman Thomas Coutts, which toured the River Thames and the Medway before setting sail for China.
In a letter to his friend John Dunthorne, he wrote he "was much employed in making drawings of ships in all situations".
A collection of folios had been inherited by the current owner in west Dorset after it was passed down by relative Philip Coates, whose father Henry Coates founded Coates Brothers Printing Inks in London.
Valuer Amy Brenan, of Dukes Auctioneers, said Philip Coates was "an astute collector" and recorded details of each work he acquired.
But, she added, the current owner "didn't really believe it was a real Constable".
The watercolour will be auctioned at Duke's Auctioneers in Dorchester on 26 September.