Andy Murray sand sculpture in Weymouth vandalised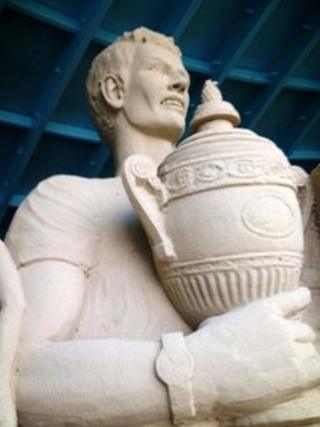 The head of an Andy Murray sand sculpture has been smashed to pieces by vandals in Dorset.
It was among damage to several displays in Sandworld's viewing area on The Esplanade, Weymouth. Repairs are estimated to cost £10,000.
An Iron Man sculpture was knocked over and the heads of Mike and Sully, the characters from Monsters Inc, were destroyed.
Director Mark Anderson said those responsible were "morons and idiots".
He sculpted Andy Murray out of sand to celebrate the British tennis player's Wimbledon win earlier this summer.
'Enormous effort'
He added: "It's horrible. Weymouth doesn't need this, it's negative.
"People are coming from all over to see them on the beach but it's near the end of the season and it's an enormous amount of effort for the sculptors to rebuild them."
He has offered a £100 award for information leading to the arrest of the culprits.
A Dorset Police spokesman said: "Sand sculptures have been vandalised and there is damage to a door and a lock, though nothing has been taken.
"We have officers attending today to liaise with the owner."
The sculptures are made out of sand from the Weymouth area and sprayed with a light polyvinyl alcohol.
Sculptures of ET, a smurf and the Gruffalo remained untouched.