Dorchester prison closure plan a 'blow' say unions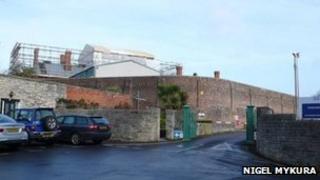 The proposed closure of HMP Dorchester is a "huge blow" for the town, the prison officers' union has said.
The Victorian prison near Dorchester town centre is among four English sites to close under government plans.
The Prison Officers Association (POA) expressed "shock and disappointment" at the decision.
The government insists the changes would "modernise" the prison system and reduce costs.
A new £250m super-prison in north Wales that will house 2,000 inmates has been announced
The government says everything possible will be done to avoid compulsory redundancies by redeploying staff.
'Remarkable results'
Speaking before a meeting with staff at Dorchester, John Hancock of the POA said: "Everyone knows it is an old building but the relationship between the inmates and the staff has always been good and there have been some remarkable results.
"It's a huge blow to the economy of Dorchester."
He said the "only saving grace" is that 60 staff will be able to transfer to HMP The Verne in nearby Portland.
HMP The Verne is to be converted into an immigration removal centre, providing around 600 additional places to hold immigration detainees awaiting removal from the country.
West Dorset MP and Minister for Government Policy, Oliver Letwin admitted it was a "worrying" time for the 157 staff at Dorchester Prison.
"However, I have talked to the Justice Secretary about this, and I am glad that he expects to be able to find jobs elsewhere in the prison service for all of the staff involved."
'Negative impact'
Earlier this year Dorchester was earmarked as a so-called resettlement jail to house prisoners close to where they live.
Dorset's police and crime commissioner Martyn Underhill said he was "disappointed and dismayed" at the closure.
"I am concerned that this decision will have a negative impact on the county's ability to proactively work with partners to rehabilitate offenders," he said.
Jane Barkes of the Footsteps Project charity, which has worked in the prison mentoring inmates for the past eight years, said she was "very sad" about the closure.
"It's a small prison, the staff are very supportive and it's easy to work with and be recognised by prisoners - which is not so easy in a large prison."
The government said the closures of Reading, Dorchester, Blundeston and Northallerton would reduce the prison budget by £30m a year.