Dorset council in clamp down on advertising boards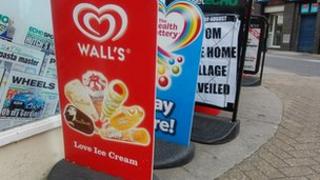 New rules covering advertising boards on pavements outside businesses in Dorchester are being brought in.
Traders are being sent an A-board enforcement policy by the council which states the maximum size of a board and where it can be placed.
Under the new guidelines businesses will also only be allowed one sign.
But florist Gemma Cornick said: "We need them as we're down a side street. We will handcuff ourselves to them if the council tries to take them away."
Her shop positions one sign outside and a second off the main shopping area in the town.
"The business wouldn't survive if we couldn't have our A-boards, we need them to tell people we're trading," she added.
"They are part of the shop - we even put fairy lights on them at Christmas and balloons on them for Valentine's Day."
Dorset County Council said it was bringing in the new policy as there had been a noticeable increase in the number of signs left on footpaths.
'Eyesore'
The council has powers to remove the boards if they breach the guidelines.
Gordon Sneddon, community liaison manager at Dorset County Council, said: "Traders obviously feel that they are very important for their business, whereas people who are using the pavements might have a different view.
"I also think there are some people who just see them as a bit of an eyesore."
Under the guidelines, boards need to be close to the premises, should not be attached to any highway structures, or hamper access.
Newsagent Ashley Newman, who has four boards outside his shop, said: "Excessive use of A-boards can look cluttered and can also dilute the impact of the message on the board."
He argues his boards, which all advertise different things, are on private land and let people know he is "open for business".
The council plans to roll out the policy across the county.