Bournemouth Air Festival begins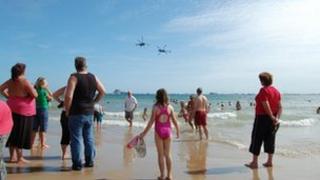 The sixth Bournemouth Air Festival is under way.
The first planes in the four-day event took to the skies earlier, while ground-based entertainment will continue into the evening.
Confirmed appearances for the weekend include The Red Arrows, Battle of Britain Memorial Flight, RAF Typhoon and the Cold War-era Vulcan bomber.
Evening entertainment ranges from Blue and Kodaline to the Royal Marines' band and a Sound of Music sing-a-long.
During last year's event, part of the beach and cliff-top were evacuated after an unexploded World War II device was discovered near East Overcliff Drive, between the piers.
The 2011 festival was overshadowed by the death of Red Arrows Pilot Flt Lt Jon Egging, whose aircraft crashed near Bournemouth Airport on 20 August.
Flash floods had already forced organisers to cancel the first day of the 2011 event.
More than a million people attend the festival each year and, according to the borough council, it brings more than £25m into the local economy.
Radio Solent will be broadcasting a special programme from the Bournemouth Air Festival on Sunday 1 September at 14:00 BST.