Asbestos warning at Tolpuddle barn fire in Dorset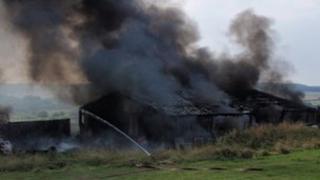 Local residents were warned to stay indoors because of a possible asbestos risk from a large fire in Dorset.
Firefighters discovered asbestos in the roof of a barn on fire at Creech Holding, in Tolpuddle.
Residents in the area were advised to stay indoors and keep their windows and doors shut during the fire on Monday.
The risk was described as minimal by Dorset Fire and Rescue Service. About 35 firefighters dealt with the blaze which demolished the barn.