Westbourne mechanic gets bus wedged under bridge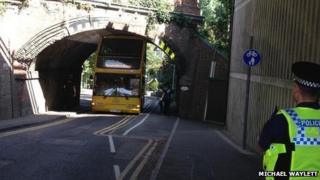 A mechanic has been suspended after taking a double-decker bus for a test drive and getting it wedged under a railway bridge.
Traffic had to be diverted for more than an hour while the tyres were deflated and the bus recovered, in Prince of Wales Road, Westbourne.
No passengers were on board and the driver was unhurt.
Yellow Buses said the vehicle was on a road test on Thursday and was not using one of its usual routes.
Jenni Wilkinson, head of marketing, said: "The bus involved was not in service.
'Not a bus route'
"An engineer has been suspended while an internal investigation is carried out."
A structural engineer assessed the bridge but rail services were unaffected.
Michael Waylett, from Westbourne, spotted the bus as he walked past the scene.
He said: "It's obviously a bit of a silly thing to do. It doesn't make any sense to bring it down there.
"It's not a bus route so I don't know what it was doing, so it now makes sense that it was on a road test."