Extra auditions for Thomas Hardy movie adaptation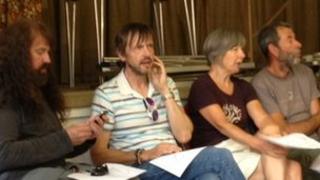 New auditions are being held by casting directors searching for extras in a film adaptation of a Thomas Hardy novel.
Earlier this month, hundreds queued in Bridport for the open casting of Far from the Madding Crowd.
Producers say the initial response means they can be more specific about the people they need.
Young men and women with natural hair are needed for the film which will be shot in Dorset in the autumn.
Assistant director Guy Campbell said the initial auditions proved "very useful" but a new session was scheduled after they had been contacted by many people who missed the first date.
Larger roles
"We're looking for people with really good character faces - who, in their everyday lives, wouldn't ever consider being part of a film.
"They bring such personality and texture - we want to get that in."
He also said individuals who "met the look" could potentially find themselves given larger roles in the Thomas Vinterberg-directed film.
They are searching for a total of 500 to 600 male and female extras to play farm workers from the 1840s.
Another all-day audition is being held at Dorchester Rugby Club on Friday.
Filming in Dorset will start in September with a cinema release planned for 2014.
The Fox Searchlight adaptation will star Carey Mulligan, who recently played Daisy Buchanan in the Baz Luhrmann production of The Great Gatsby.
Thomas Hardy was born in Dorset and lived most of his life in the county, writing novels and poems.
He set up a theatre group called the Hardy Players and encouraged local people to perform plays based on his novels at his home at Max Gate, Dorchester.