Poole-based RNLI launches story sharing campaign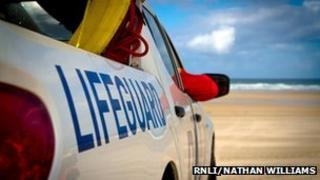 The RNLI has launched a social media campaign to generate "one million" shares of stories of people being rescued on beaches and at sea.
The Poole-based charity hopes the #SaveWave campaign will raise awareness of what volunteer lifeguards and lifeboat crews do every day.
People can sign up to the campaign through their social media accounts.
Simon Crayfourd, lifeguard manager, said the campaign was "not about donating money", as signing up is free.
He added: "It's all about sharing our stories with as many people as possible.
"So please sign up and donate posts and tweets to the RNLI, rather than pounds and pence on this occasion.
"By the end of the campaign we hope to have shared our rescue stories with over one million people. That's a big wave of awareness."
One of the first incidents posted was the rescue of nine people trapped by the incoming tide on Treyarnon beach in Cornwall on Tuesday.
The campaign runs until 29 September.