Wimborne Minster town crier fights for tourist centre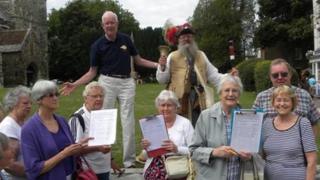 Proposals to close a tourist information centre in a Dorset town have been described as "drastic" and "dangerous" by its town crier.
The Christchurch and East Dorset Partnership will shut Wimborne Minster's office in November if a third party does not take it over.
Town crier Chris Brown called the move "short-sighted".
But Matti Raudsepp, the partnership's head of leisure, said most people now obtained their information online.
Mr Brown, along with former town mayor Anthony Oliver, has started a petition to save the tourist information centre which is based on Wimborne High Street.
He said: "Not only does the centre have a huge affect on our visitor numbers by keeping them in the town, it's a much needed part of the community but an easy soft target for cuts.
"We have an ageing population and many do not use the internet.
"Residents pop in every week for their community newspapers and to buy their bus passes. It sells a lot of local products."
'No easy decision'
Mr Oliver has received an MBE for his services to the community. He is chairman of the town's tourism committee and praised the staff at the centre.
"They are always friendly and so helpful in answering the many queries from residents and visitors.
"We have to explore every avenue possible to make sure the centre does not close as threatened."
Mr Raudsepp said the proposals had not been an "easy decision to make".
He added: "We are still in discussions with regard to an information service being maintained in some way in Wimborne.
"However, it is clear that, given the ongoing reductions in funding from central government, councils must provide a tourism service that meets modern demands."
Wimborne Minster's tourist attractions include its church which is dedicated to St. Cuthburga, sister to King Ina of the West Saxons.
It is also believed that Alfred the Great buried his brother Ethelred there in 871.