Portland Coastguard helicopter hoax caller is 'risking lives'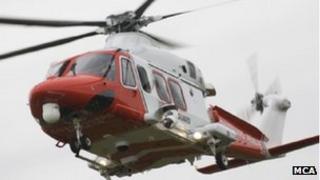 A hoaxer making false distress calls in Dorset is risking lives and costing coastguards "thousands of pounds an hour" the service has said.
The man has made "four or five" calls from the Weymouth area in the last few weeks, Portland HM Coastguard said.
Watch assistant Simon Palmer said one theory was that the hoaxer wanted to see the rescue helicopter in action.
The government plans to close the search and rescue helicopter base at Portland in 2017.
'May Day calls'
Dorset Police said it was investigating the hoax calls, believed to have been made via Marine VHF radio, which is installed on all large ships and most small sea craft.
Mr Palmer said the nature of the calls varied.
"Sometimes he says 'May Day' which is the distress call, and sometimes he uses a false boat name."
He added coastguards had to act upon each distress call, but when they arrived there was nothing there.
"These hoax calls divert our assets so are potentially putting lives at risk," he said.
It was costing the rescue service cost thousands of pounds an hour in operational costs, he added.
An online petition, led by South Dorset MP Richard Drax, opposing the closure in 2017, attracted 17,000 signatures. More than 100,000 signatures are necessary to trigger a debate in Parliament.