Three rescued from capsized ice cream boat off Hengistbury Head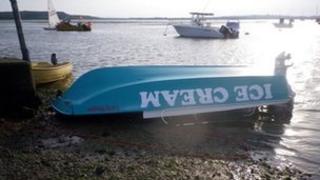 Three people had to be rescued off the Dorset coast after a boat selling ice cream capsized.
A Mayday call was made to coastguards by another vessel after spotting the overturned Dory boat and its three crew in the water off Hengistbury Head.
The Lolly Roger is believed to have overturned when a freezer on wheels containing ice cream rolled while onboard on Thursday afternoon.
The three people were picked up by a passing motor cruiser.
The two men and a women were not seriously hurt.