Weymouth seafront memorial plan approved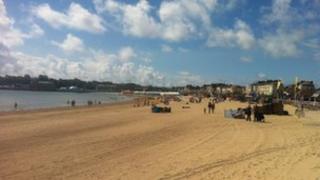 A seafront memorial to commemorate residents who have lost their lives in armed conflict since 1945 has been given the go ahead by a Dorset council.
Weymouth and Portland Borough Council's management committee has approved the plans for Weymouth Esplanade.
The Portland stone wall will be an extension to the existing cenotaph, which commemorates the fallen from World Wars I and II.
The plans were supported by the Royal British Legion.
'Ultimate sacrifice'
Weymouth and Portland Borough Councillor Joy Stanley said she was "absolutely thrilled" with the decision.
"It is very important that we acknowledge the ultimate sacrifice people of this borough have made since World War II while in armed conflict," she said.
The committee will now choose one of two preferred options for the memorial - either one or two stone walls which will be placed around the existing cenotaph.
The cost of the memorial, which will include a bronze plaque inscribed with the names of the fallen, is estimated at between £35,000 and £45,000.
The council hopes to raise the money by public donation and said sponsors would have a say on which option they preferred.
It added it hoped the Royal British Legion and the War Graves Commission could offer some financial support.
Work on the chosen option, which will be subject to a planning application, could start later this year, the council said.