International Wheels Festival planned for Bournemouth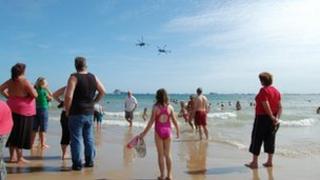 A new motoring-themed festival is being planned for Bournemouth, the borough council has announced.
The International Wheels Festival will take place from 24 to 26 May 2014 and will feature historic and classic cars, hot rods, motorbikes and custom cars.
The authority is hoping to build on the success of the Bournemouth Air Festival, which attracts more than a million people each year.
It hopes the new event will attract about 360,000 people.
According to Bournemouth Borough Council, the air festival brings more than £25 million into the local economy.
Organisers of the new event are planning similar night time entertainment, including films, fireworks and illuminated events for all types of vehicles.
Council leader John Beesley said: "We have had huge success with the Bournemouth Air Festival and for many residents it is one of the highlights on their summer calendar.
"This major new event for the town will kick-off the start of the summer season in style."