Anniversary of 1613 'Great Fire of Dorchester' marked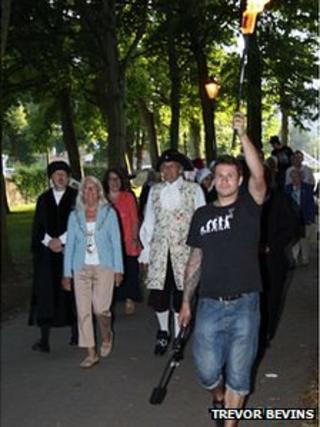 A fire which devastated Dorset's county town 400 years ago has been commemorated.
The "Great Fire of Dorchester" is thought to have begun in a candle-maker's workshop before spreading through the town's wooden buildings.
Historian Dr Mark Forrest said the blaze caused "massive destruction".
A torch lit procession took place on Saturday and a plaque was unveiled at the site of where the fire started, a present-day estate agents.
Dr Forrest, of the Dorset History Centre, said most of the town's population was working in the fields in August 1613 when the fire started, so hardly anyone was around to tackle the blaze.
'Sinful living'
Consequently, only one person died, a cobbler's wife who was killed trying to rescue shoes from their shop.
Dr Forrest said "a very considerable proportion" of the town's buildings were destroyed in the tinder-dry conditions.
He said the town's radical Protestant preachers branded the fire a "punishment for the town's sinful living".
Such was their influence, it led to Dorchester becoming a stronghold of the Parliamentary forces in the Civil War later in the century.
Dr Forrest said another consequence was a rise in emigration from the area and many people from Dorchester were among the early settlers in North America.
"It was an exceptional event which was well documented and has remained in the folk memory of the town," he added.