Dorset Police to 'improve 101 service'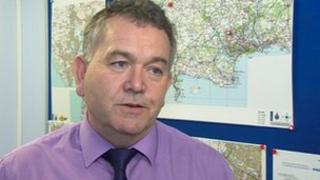 Dorset Police has vowed to improve its 101 non-emergency service after recent "difficulties" answering calls.
The force said the problems, which included calls being abandoned, had been due to delays in staff recruitment and the roll-out of new technology.
Following complaints from members of the public it has agreed to recruit new telephone operators after talks with the county's PCC Martyn Underhill.
It also plans to invest in technology upgrades.
The move follows talks between Police and Crime Commissioner (PCC) Mr Underhill and Chief Constable Debbie Simpson.
Mr Underhill said the service was understaffed which had resulted in calls being abandoned.
He added he had encountered a "regular stream" of complaints from members of the public about the service, which operates 24/7, and added some response times had been "unacceptable".
"The public have, rightly, been vocal surrounding this crucial 101 non-emergency service and I have asked the Chief Constable to step up plans for service improvement," he said.
Dorset Police said 8.6% of non-emergency calls were abandoned in the first quarter of this year, which compares to 6.2% during the same period last year.
The force added 95% of calls are answered in under 10 seconds with the average waiting time being under five seconds.
Chief Constable Simpson said: "It is vital, as we move into the busy summer holiday period, that we strengthen our plans to address these difficulties."
She added the public would be updated on the progress of the planned changes, which aim to "ensure calls are answered faster", over the coming weeks.