Camp Bestival explosion injures man and woman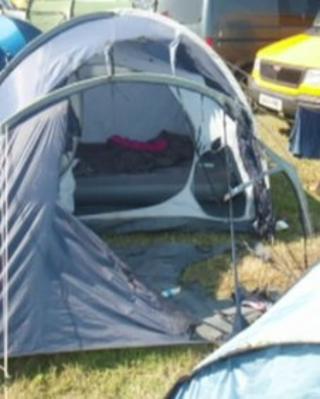 Two people have suffered serious burns in an explosion at a music festival campsite in Dorset.
A woman was airlifted to a specialist burns unit with injuries described by the ambulance service as "life-changing".
A man was taken to hospital by ambulance after the blast at Camp Bestival on Thursday afternoon.
Witnesses reported seeing a fireball in a camping area for traders at the event in the grounds of Lulworth Castle.
'Actions invaluable'
Firefighters believe the cause was a gas leak from a cooking stove cylinder.
Investigators from Dorset Fire and Rescue Service said leaking gas ignited another cylinder nearby.
Steve Underhill, of the fire service, said: "As soon as the explosion occurred it alerted other campers.
"They came forward with extinguishers, with buckets and bottles of water and quickly put the fire out in the tent, but then applied cooling water to the casualties.
"Their actions were invaluable."
The blast destroyed one tent and damaged another. The woman was taken to hospital in Bristol while the man was transferred to Dorset County Hospital in Dorchester.
A spokesperson for Camp Bestival said: "Following this incident further safety messages and briefings have been put into place to reinforce fire safety practices.
"Everyone at Camp Bestival wishes both persons a speedy recovery."