Struggling Bournemouth Airport returns to profit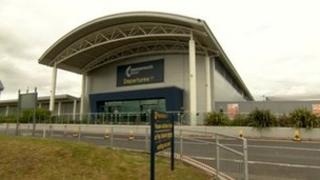 Bournemouth Airport has returned to profitability, with a rise in passenger numbers.
Its owner, Manchester Airports Group (MAG), said 700,000 people used the facility in 2012-13 compared with 600,000 in the previous year.
The airport has struggled since the completion of a new £45m terminal in 2010 but it reported profits of nearly £2m in the last financial year.
Noise complaints were also up from 1,013 to 1,159.
By comparison, there were 794 complaints regarding noise at Manchester Airport and 425 at East Midlands, the company's annual reports revealed.
MAG said its pre-tax profit at Bournemouth were £1.9m, an increase of £2.5m from 2011-12.
It said the jump reflected the financial performance of its car park and a cut in base operating costs from £20.70 to £13.20 per passenger.
The airport has outline planning permission to develop a 35-acre area for business space over the next decade, which it claims will create a thousand jobs.
There are already 200 businesses based at the airport's Aviation Business Park.
Earlier this month, Bournemouth's biggest carrier, Ryanair, said it said it would resume a year-round service.
In July 2010, a month after the new terminal opened, Ryanair announced it would stop its winter flights from the airport, blaming the sluggish economy, the Icelandic volcanic ash cloud, austerity measures and the general election.
MAG, which also owns Manchester, Stansted and East Midlands airports, is 64.5% owned by the City of Manchester and the nine Greater Manchester local authorities.