Ronaldo free-kick breaks boy's wrist at AFC Bournemouth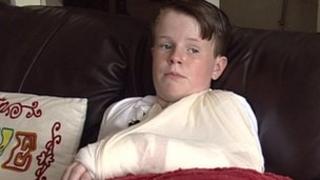 A young football fan whose wrist was broken by a Cristiano Ronaldo free-kick at Bournemouth has received a shirt signed by the player and his Real Madrid team-mates.
AFC Bournemouth took on the Spanish giants in a pre-season friendly at the Goldsands Stadium on Saturday.
The match attracted thousands of fans.
Among them was Charlie Silverwood, 11, who early in the match was hit by a Ronaldo free-kick and later had to undergo surgery on his wrist.
'No front teeth'
Charlie, from Christchurch, said: "It was Ronaldo's first free-kick of the game. It went straight for me so I blocked the ball with the palm of my left hand and the force, I suppose, reverberated up my arm and broke my wrist."
First aiders at the ground put his arm in a sling and told him to go to hospital.
"Real Madrid is a once in a lifetime opportunity - seeing them play your local club - so I watched the rest of the match, mostly in pain considering I still had the sling, and afterwards I then went to hospital," he said.
Charlie has since had an operation to manipulate his wrist back into place and must spend the rest of the school holidays in plaster.
He said: "If I hadn't blocked it with the palm of my hand I would have no front teeth. It definitely had to be some speed otherwise it wouldn't have broken my wrist - 45 mph would be a safe guess I think."
Since the incident, he has been visited by Bournemouth legend Steven Fletcher, who brought him the signed Real Madrid shirt.
Charlie said the president of Real Madrid had also phoned to tell him a signed Ronaldo shirt was on the way.