Dorset village hall cordoned off after gas mains fire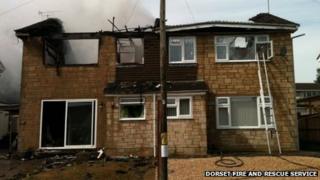 Two houses caught fire and a gas main ruptured, causing neighbours to flee their homes.
A village hall and 25 homes were evacuated and cordoned off during the blaze at Vale Road in the Dorset village of Stalbridge.
Two semi-detached houses caught fire at 08:30 BST and the gas main ruptured three hours later.
A 100m cordon was put up and people were urged to avoid the area while it was being made safe.
A spokeswoman for Dorset Fire and Rescue Service said the gas main had ruptured but had not caught fire.